Rabbi Shimon Bar Yohai- painting by number stretched 40*50
DIY judaica painting by number – be your own artist.
Canvas stretched on wooden frame 40*50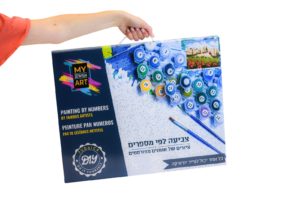 Level: Professional
Color: 24
Description
The holy Rashbi, author of the Book of Zohar, hid in a cave in Peki'in and studied Torah. The picture of Rabbi Shimon Bar Yochai is famous and received throughout Israel as the image of the holy Tanna Rabbi Shimon and is a virtue for blessing and success in every home in Israel.
About the artist
Biography – Tamar Zeitlin, an Israeli painter and artist, was born in 1985 in Jerusalem, and is the tenth generation in the Land of Israel, to the Segal family from Safed.
She spent her childhood between the old neighborhoods of Jerusalem and the alleys of the Old City in Safed, where her grandparents and many members of her family lived. There, among the alleys of Safed, she absorbed the inspiration for art and the emotional charge that emanates from her works.
Tamar began professional painting studies from a very young age and already at the age of 16 she opened a framework for girls' painting studies in Jerusalem, in which she taught professional courses.
Tamar continued to study realistic illustration studies and various techniques with the artist Ora Nissim.
With the advancement of the world of technological creation, Tamar began to break through in digital art and invent techniques for digital painting in her own unique style.
Her works adorn private homes, offices and hotels in the Land of Israel and around the world and are displayed in exhibitions.
Tamar has signed many books accompanied by her amazing illustrations and a variety of works of art in various styles.
Only logged in customers who have purchased this product may leave a review.
Other products you may like