Rav Kanievsky studies – painting by number stretched 40*50
DIY judaica painting by number – be your own artist.
Canvas stretched on wooden frame 40*50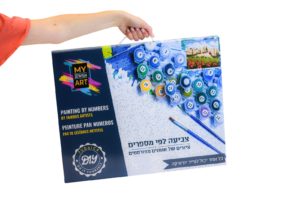 Level: Professional
Color: 24
How to start painting?
– Cover the table with plastic wrap so that it does not get dirty. Prepare a glass with water for brushing
– Color the numbered areas with the appropriate color according to their number.
  Do not dilute the paint with water
– You should start with large areas and gradually go to small ones because they are more difficult to paint
– Fill in the areas of the same color. Try to go from top to bottom
– Once you have finished creating, you can add details to make it more captivating and creative
– Varnish your painting for a more beautiful effect.
– Admire your work and feel free to send us a picture of the piece you've created!
The advantages of paint by numbers
Release your creative spirit and relax, thanks to our paint by number kits.
Paint by numbers is a simple method to introduce or perfect the painting. It's easy, fun and the results are amazing!
A mix of patience and technique that will allow you to recognize your ability to create superb paintings.
A creative relaxing activity for all occasions, and it is accessible to everyone:
. A DIY wall decoration – Paint your own wall decoration, even if you are deprived of any artistic sense.
. A therapeutic moment of relaxation – Let your imagination take you away from the stress of your daily life.
.An excellent gift idea –  These kits can be for any occasion! Also for holidays, a birthday, Mothers/Father's day, Bar/Bat mitzvahs …
.A group activity – Pass an evening of relaxation and conviviality between friends, colleagues and family …
About the artist
The artist Natan Cooper was selected this year to be included in the exciting Top Contemporary Artist of Today Gold List for promising talent, of the international "Art Market Magazine."
Natan Cooper b.1963
Born in Tel Aviv Israel, from an early age he became interested in design and painting. He began refining his craft while working at some of the most prominent graphic design studios in Tel Aviv, and concentrating on painting images of urban life and its inhabitants.
He completed his formal art studies in 1982 from the American Institute of Art, studied with the Master painter Isaac Holtz. Natan travelled and studied in America and Australia. While living in Australia, he opened an art gallery and a studio. During that time, his personal art was abstract, while at the same time creating designs for television shows in Melbourne.
Natan's creative process begins with classic realistic painting, after years of drawing (from childhood) he miraculously found himself drawing perfect hyper-realistic characters with no advances and learning phases, at a peak point of achievement (in his opinion) of technique and polish, The question arose where he was with all the impressive perfect images, after years of distorting and stripping the realistic style – Natan left with a simple line with no details or descriptions, a clean line attuned to inner feelings of hidden desire (a line of hope, he says). He brings together characters drawn in simple lines that leave hollow figures floating above a backdrop to this movie called Life. The character, as disenfranchised from the background, seeks freedom from the pendulum of senses, nature, a meeting of two states of consciousness. The background is as projected from the thought (as you can say – what man thinks that is where he's at) as opposed to line figures that reflect real hidden desire.
Intrigued by various visual ideas, different techniques, refers to painting as a show , not compromising the level of excitement, wooing the same point where painting begins to a kind of spiritual presence that radiates and reaches the observer's heart. Natan aspires that painting should not remain as a color material on canvas, according to him the combination of balance and movement gives birth to a truly spiritual layer, Electricity is generated so painting is not just an object to be seen and enjoyed by all its components. Topics that inspire Natan's creation are the person facing the world, mental states and states of consciousness.
Natan has experimented with great success in a variety of areas related to visual arts such as product design, graphics, stage setting and stage studios, book illustrations and scrolls, classic painting hyper-realism, Judaica and more. Contemporary art is the most authentic tool in which he expresses his point of view of the world.
Currently, Natan is exhibiting his artwork at Ayelet Booker Gallery in Tel Aviv, George 5 Gallery in Jerusalem, Judaice art exchange Gallery in Miami Florida, A&E fine art gallery N.Y and The Bo Gallery in Lakewood N.J
The Natan Cooper website: http://www.natancooper.com/
Only logged in customers who have purchased this product may leave a review.
Other products you may like