Love your neighbor as yourself – painting by number non-stretched 40*50
DIY judaica painting by number – be your own artist.
Canvas non- stretched on wooden frame 40*50
good price and easy to use in travel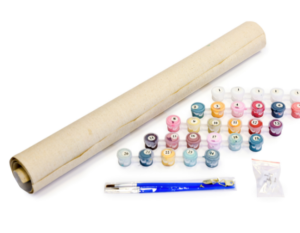 Level: Beginner
Color: 24
Description
Loving your neighbor as yourself is a commandment made from the Torah, and according to the Tanna Rabbi Akiva, it is also a basic concept in the Torah.
The meaning of this mitzvah is that a person should love to be good to another, like him. When the main meaning of this is: what is hated about you – do not do to your friend. From this rule derive many ways of behaving, because of which Rabbi Akiva referred to it as a central and important rule in the Torah.
How to start painting?
– Cover the table with plastic wrap so that it does not get dirty. Prepare a glass with water for brushing
– Color the numbered areas with the appropriate color according to their number.
  Do not dilute the paint with water
– You should start with large areas and gradually go to small ones because they are more difficult to paint
– Fill in the areas of the same color. Try to go from top to bottom
– Once you have finished creating, you can add details to make it more captivating and creative
– Varnish your painting for a more beautiful effect.
– Admire your work and feel free to send us a picture of the piece you've created!
The advantages of paint by numbers
Release your creative spirit and relax, thanks to our paint by number kits.
Paint by numbers is a simple method to introduce or perfect the painting. It's easy, fun and the results are amazing!
A mix of patience and technique that will allow you to recognize your ability to create superb paintings.
A creative relaxing activity for all occasions, and it is accessible to everyone:
. A DIY wall decoration – Paint your own wall decoration, even if you are deprived of any artistic sense.
. A therapeutic moment of relaxation – Let your imagination take you away from the stress of your daily life.
.An excellent gift idea –  These kits can be for any occasion! Also for holidays, a birthday, Mothers/Father's day, Bar/Bat mitzvahs …
.A group activity – Pass an evening of relaxation and conviviality between friends, colleagues and family …
Only logged in customers who have purchased this product may leave a review.
Other products you may like