David's Harp – painting by number non- stretched 40*50
DIY judaica painting by number – be your own artist.
Canvas non- stretched on wooden frame 40*50
good price and easy to use in travel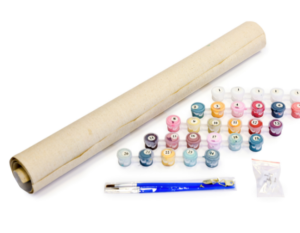 Level: Serious
Color: 24
Description
An elegant colorful of King David's harp with cascading musical notes in gold detail.
How to start painting?
– Cover the table with plastic wrap so that it does not get dirty. Prepare a glass with water for brushing
– Color the numbered areas with the appropriate color according to their number.
  Do not dilute the paint with water
– You should start with large areas and gradually go to small ones because they are more difficult to paint
– Fill in the areas of the same color. Try to go from top to bottom
– Once you have finished creating, you can add details to make it more captivating and creative
– Varnish your painting for a more beautiful effect.
– Admire your work and feel free to send us a picture of the piece you've created!
The advantages of paint by numbers
Release your creative spirit and relax, thanks to our paint by number kits.
Paint by numbers is a simple method to introduce or perfect the painting. It's easy, fun and the results are amazing!
A mix of patience and technique that will allow you to recognize your ability to create superb paintings.
A creative relaxing activity for all occasions, and it is accessible to everyone:
. A DIY wall decoration – Paint your own wall decoration, even if you are deprived of any artistic sense.
. A therapeutic moment of relaxation – Let your imagination take you away from the stress of your daily life.
.An excellent gift idea –  These kits can be for any occasion! Also for holidays, a birthday, Mothers/Father's day, Bar/Bat mitzvahs …
.A group activity – Pass an evening of relaxation and conviviality between friends, colleagues and family …
About the artist
Biography – Tamar Zeitlin, an Israeli painter and artist, was born in 1985 in Jerusalem, and is the tenth generation in the Land of Israel, to the Segal family from Safed.
She spent her childhood between the old neighborhoods of Jerusalem and the alleys of the Old City in Safed, where her grandparents and many members of her family lived. There, among the alleys of Safed, she absorbed the inspiration for art and the emotional charge that emanates from her works.
Tamar began professional painting studies from a very young age and already at the age of 16 she opened a framework for girls' painting studies in Jerusalem, in which she taught professional courses.
Tamar continued to study realistic illustration studies and various techniques with the artist Ora Nissim.
With the advancement of the world of technological creation, Tamar began to break through in digital art and invent techniques for digital painting in her own unique style.
Her works adorn private homes, offices and hotels in the Land of Israel and around the world and are displayed in exhibitions.
Tamar has signed many books accompanied by her amazing illustrations and a variety of works of art in various styles.
Only logged in customers who have purchased this product may leave a review.
Other products you may like